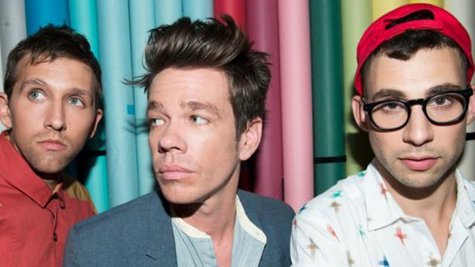 "Carry On" is the third big hit from fun. 's album Some Nights , following "We Are Young" and the title track. And lead singer Nate Ruess says he considers himself lucky to have written it, considering the fact that he had major writer's block for several months and wasn't able to come up with anything else.
"I rented an apartment two or three summers ago with the intent of figuring out what the album was gonna be 'cause I had, maybe, only written one or two songs at that point," Nate tells ABC News Radio of his time in New York prior to recording Some Nights . "I wasn't sure stylistically where we should go or anything like that."
Nate says his plan was to spend "the whole entire summer just holed up in this apartment writing the whole entire album," but unfortunately, that's not what happened. "I ended up just getting day drunk and watching Lost ," he laughs.
But there was one night in that apartment, says Nate, when a big storm came along...and "Carry On" came with it.
"I just got the feeling that we were sinking," he tells ABC News Radio. "And I guess the song just, kind of, came to me from there and it was cool because it really did, kinda, write itself."
He adds, "It's one of my favorite songs on the album and it was the only thing that I came out with, out of those three months, and I tell you, it was well worth the money spent!"
The Grammy-winning band will kick off a European tour next month, and then head back to the U.S. this summer for additional dates.
Copyright 2013 ABC News Radio