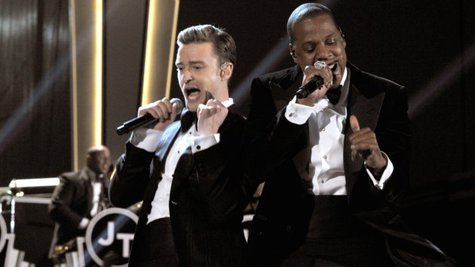 Let's say you want to go see Justin Timberlake live, but you don't want to see him in a stadium and you're not a fan of Jay-Z. Well, just be patient -- when Justin and Jay's upcoming Legends of the Summer tour is over, a solo tour by Justin will follow.
Justin's manager Johnny Wright tells Billboard , "Probably he'll go out sometime in the fall. We haven't routed that yet or figured out what cities we're going to play. I know we'll start in North America first." He adds that "sometime in April/May," there will be an announcement about the solo tour.
As for what fans can expect from the Legends of the Summer tour, Wright says, "All I can say is it's two of the biggest superstars in the world, and they're gonna bring something that is going to be very special to the stage." That tour gets underway in July in Toronto.
Asked if he feels Justin has been overexposed, what with all his TV appearances lately, Wright tells Billboard, "You know what? It's funny, because I don't think so and I can only say that by this: We're not doing half the stuff that I've seen other artists doing."
Wright adds, "The worst thing that I can hear is, 'Oh, I didn't know Justin had a record coming out." That's the kiss of death. So for me I would rather people say, 'Hey, I see this everywhere' than say 'I didn't know anything about it.'"
Copyright 2013 ABC News Radio