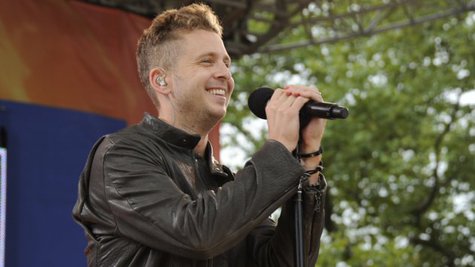 OneRepublic's Ryan Tedder won a Grammy for his work on Adele's world-beating album 21 , and he says that he'll be happy to work with her on her next project...when she's ready.
Speaking to BBC Radio 1 , Ryan said that as far as he knows, there isn't anything happening as far as discussions for Adele's next album, but he's ready, willing and able to contribute. "At least as of last week, from the label, I've been told there is no actual talks happening right now whatsoever," Ryan says. "She has a kid, she has been chilling and she should."
But, adds Ryan, "At [the] point she wants to start working again...I would of course, go in, in a heartbeat. I already have a couple of ideas." The challenge, he says, will be to come up with a theme for the album -- and he wouldn't presume to attempt to craft any lyrics for the singer.
"To me...it would come down to, 'OK, last album was bitter and heartbroken.' That was the narrative. It's hard for me to even come up with ideas without knowing what the narrative would be now," he explains. "Everything she does is so instantaneous, instant, real, authentic. The most I could possibly come up with would just be music. I'm not going to put words in her mouth for anything."
While he's waiting on Adele, Ryan's still got plenty to do: OneRepublic is releasing their new album, Native, on Tuesday and will embark on a U.S. tour this summer.
Copyright 2013 ABC News Radio