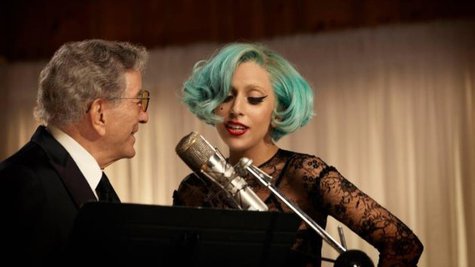 Following surgery on her right hip, Lady Gaga may not be able to walk very well, but she can still sing. In fact, she plans to start recording her long-planned jazz album with legendary crooner Tony Bennett this summer.
Bennett tells Rolling Stone that he and Gaga are "working on [the album] from now until June, and then we'll record in June." Calling Gaga "phenomenal," the 86-year-old icon added, "I get along great with her. She's looking forward to it and so am I."
Bennett and Gaga recorded "The Lady Is a Tramp" for Bennett's #1 album Duets II in 2011, and he appeared in her ABC Thanksgiving special that same year. He also joined her earlier this year for a duet when she performed at the White House for Obama campaign staffers. At the time, Gaga posted a picture of her and Bennett on stage together and then tweeted, "I simply cannot wait for our album together, he's my darling!"
Gaga and Bennett will record their album, which musically will be along the same lines as their duet, in a studio in Queens, New York, but as of now, they haven't chosen a producer.
In addition to Gaga's voice, Bennett also told Rolling Stone that he admires the younger singer's business sense, mentioning her fragrance, Fame. "She sold one billion bottles of perfume," he laughed, only exaggerating slightly.
Copyright 2013 ABC News Radio