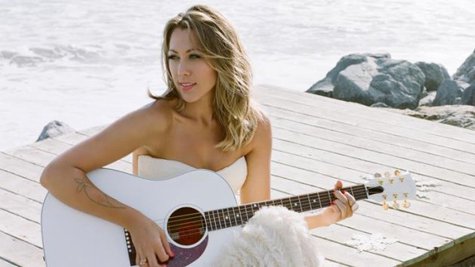 Colbie Caillat is currently on the road, but she says at the beginning of the summer, she'll start recording a brand-new album for which she's already written 30 songs, with more to come. That album, she says, may reflect some of the sounds she's been hearing on the radio lately.
Speaking to LancasterOnline.com , Colbie says that she's been paying attention to bands like fun. and The Lumineers , and their hits like "Some Nights," "We Are Young" and "Ho Hey." As a result, she says "I think this record is definitely going to be harmony-driven and have gang vocals and choruses that are more of a chanting kind of thing."
Colbie adds that the song "Cecilia," by Simon & Garfunkel -- another tune with a chanting chorus -- has been inspiring her recent songwriting. Perhaps not coincidentally, quite a few people have noticed that fun.'s "Some Nights" sounds an awful lot like "Cecilia."
Grammy-winning Colbie is trying out some of her brand new, as-yet unrecorded songs on her current tour, which wraps up at the end of March.
Copyright 2013 ABC News Radio