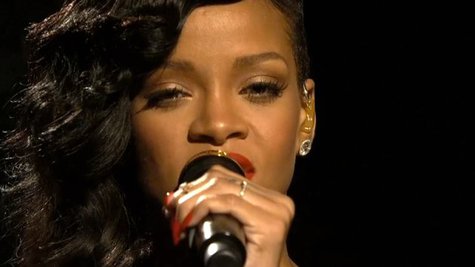 When students at Barrington High School in Barrington, Illinois, won the " Rihanna Bright Like a Diamond " video contest, they waited to hear back about when they'd get their prize -- a visit from Rihanna. Then, on Friday, when the singer was scheduled to drop by the school before her Chicago concert, Barrington students waited again. This time, they sat around for more than four hours, according to the Chicago Tribune .
"It's one thing to be fashionably late. This is just rude. Our lives don't revolve around a pop star," one student told the newspaper. Rihanna had been scheduled to arrive at the school at 1 p.m., but by 5 p.m., she still hadn't shown up, according to the Chicago Tribune . Still, the mostly female crowd stuck around anyway, enjoying music from a DJ sent by Rihanna.
Earlier in the day, the singer had apologized to the school's principal about being late, according to the newspaper. She seemed to blame at least some of her tardiness on things outside of her control, tweeting , "This Chicago traffic is not working."
When she finally did show up, the crowd of 2,500 students went wild, according to the Chicago Tribune . "Thank you guys for coming and waiting," Rihanna said to the students, applauding them for the charitable projects they'd done, including raising money for victims of a tornado. To win the contest, students had to create their own video interpretation of Rihanna's "Diamonds" song, including footage of their school giving back to the community.
According to the Chicago Tribune , Rihanna stuck around Barrington's gym for about 15 minutes. She smiled for pictures, and gave an autographed CD and tickets for her Diamonds world tour show to some lucky fans.
Copyright 2013 ABC News Radio