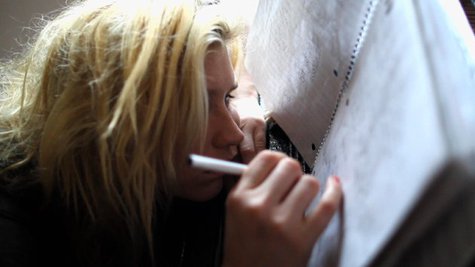 We're going to be seeing a lot of Ke$ha next month -- she'll both perform on Logo's NewNowNext Awards and will premiere her docu-series Ke$ha: My Crazy Beautiful Life on MTV.
"I'm so excited to perform at Logo's NewNowNext Awards," says Ke$ha in a statement, adding "[Logo] is obviously a huge supporter of equal and gay rights, which is so important to me, and I'm really stoked to party with them!" More performers, presenters and special guests will be announced soon.
As previously reported, Ke$ha's nominated in the "That's My Jam" category of Logo's NewNowNext Awards. Also nominated in that category are Macklemore & Ryan Lewis , Bruno Mars , indie rock duo Tegan and Sara , and Pink for her "Just Give Me a Reason," her duet with fun. 's Nate Ruess . If you haven't voted yet, there's still time by visiting the award show website . The awards show airs on April 15 at 10 p.m. ET/PT on the gay-themed cable channel.
There's also a new commercial for Ke$ha: My Crazy Beautiful Life . In this one, Ke$ha cries as she explains why she does what she does, saying, "My message is to give the haters the finger and be yourself." Of course, it wouldn't Ke$ha without at least one good gross-out moment, which in this clip is Ke$ha letting loose one pretty gnarly belch. Recall that in the first trailer, she dropped partially chewed food from her mouth into the mouths of several tour mates.
Filmed by her brother Lagan Sebert and filmmaker Steven Greenstreet , Ke$ha: My Crazy Beautiful Lif e debuts April 23 at 11 p.m. on MTV.
Copyright 2013 ABC News Radio