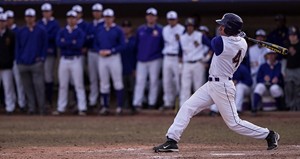 STEVENS POINT, WI (UWSP) – Bobby Gregorich (Plover, WI/SPASH) hit his first home run of the season and Ben Messenger (Green Bay, WI/Bay Port) pitched seven scoreless innings as the UW-Stevens Point baseball team came away with a 10-0 win over St Nortbert in a nonconference game late Tuesday afternoon.
The Pointers (25-7) put up six runs in the first inning, beginning with Ryan Schilter (West Bend, WI/West)'s one-out solo home run, his sixth of the season.
Following a single by Sean Gerber (Stoughton, WI/Stoughton) and a two-out double by Riley Spetz (Sevastopol, WI/Sevastopol), Gregorich belted a three-run home run to left-center field, putting the Pointes ahead, 4-0.
Clint Rose (Watertown, WI/Watertown) and Dan Douglas (East Troy, WI/East Troy) added RBI singles to close out the first-inning onslaught.
Making his third start of the season, Messenger allowed just two hits and struck out seven through seven innings.
The Pointers added four runs in the seventh inning. Gerber ignited the rally by leading off with a double and Jimmy Coady (La Crosse, WI/Aquinas) followed with an RBI single.
Gregorich, making the start in center field, led UWSP with four RBIs.
The Pointers host UW-Oshkosh for a doubleheader Wednesday, May 1 beginning at 1 p.m.