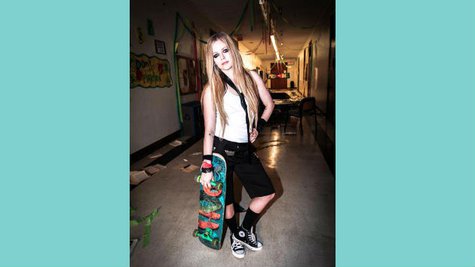 Avril Lavigne is out with the video for her new single "Here's to Never Growing Up," and despite the fact that she's almost thirty, the singer lives out the lyrics of the video by running amok in a high school.
In the clip, she and her band are playing a senior prom. Decked out in a strapless dress, tiara and raccoon-eyes makeup, Avril whips the crowd into a frenzy, and then everyone breaks out of the gym and goes wild, diving into the school pool fully clothed and running through the hallways, destroying classrooms and tossing paper and streamers everywhere.
Avril, meanwhile, has changed into her signature skinny tie, tank top and board shorts "Sk8er Boi" look, and is shown skateboarding down the hallway and, of course, giving the finger. Shattering the rebellious image somewhat is the fact that the singer is sporting her enormous diamond engagement ring in the video.
Avril will perform the song on ABC's Dancing with the Stars results show on May 14, and will also appear on NBC's Today show on May 17. Fans in Canada can check out Avril on the cover of Hello! Canada magazine's 50 Most Beautiful Canadians special, on stands now.
Meanwhile, a source close to Avril denies a report in Life & Style magazine that the singer will wed her fiance, Nickelback 's Chad Kroeger , on June 18 in Belleville, Ontario.
Copyright 2013 ABC News Radio