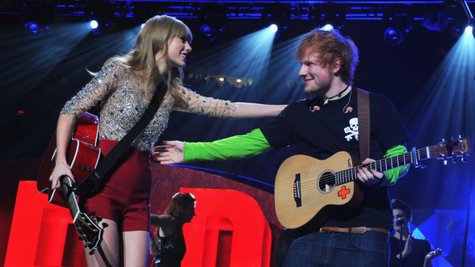 The next single from Taylor Swift 's album Red is "Everything Has Changed," her duet with tour mate and buddy Ed Sheeran . But it turns out that's not the only musical collaboration the two have created: there's another unheard duet that's currently spinning exclusively on...Ed's phone.
Speaking to MTV , Ed reveals, "We did do a lot of stuff, but I don't know whose record it will end up on," and explains that he and Taylor wrote a total of three songs. "We recorded two, and one went on her album...but we'll see what happens with the other one, there's no specific plan so far."
He adds, "It's just chilling on my iTunes right now. It's on my phone." Let's hope he doesn't lose his phone between now and whenever they decide they want to release the track.
Ed also talked to MTV about what Taylor's like when she's not on stage rocking stadiums full of screaming fans.
"When she's on stage, she's an entertainer and a performer, but when she's off stage, she spends half the time tossing cat treats to her cat," Ed dishes. "It's a very relaxed backstage area, and when we're not on tour, it's just....like, we went out for a stir-fry the other day."
Copyright 2013 ABC News Radio