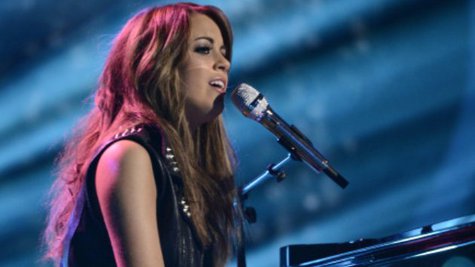 On Thursday night's American Idol results show, Ryan Seacrest made a sly reference to judge Randy Jackson 's announcement earlier in the day that he'd be leaving the Fox series at the end of the season, but nobody addressed his departure directly. Speaking with reporters on Friday, however, finalist Angie Miller spoke about Randy's departure.
Asked what the show will miss next year by not having Randy on it, Angie told reporters, "He's been a huge part of the show. I feel so blessed to have been on a year with him, to have been a part of his journey, and I'm grateful he was a part of mine."
"He was great to the show," Angie continued. "He's been a supporter of mine since the beginning."
And the singer, who was voted off Thursday night in what was a surprise to many viewers, says not having The Dawg on the panel may take some getting used to.
"It'll definitely be weird without him," she said. "He's the only one who's been here forever."
Angie wouldn't name anyone specific who she thinks should be a judge on the show next season, though she did say it would be cool to have a former contestant join the panel.
Speaking of former contestants, Angie wouldn't confirm that she's going to sing with Adam Lambert on the finale, but it's assumed to be a done deal. She added that she would "die" if she could duet with her idol, Jessie J , on the finale, but she said she wasn't aware of any plans for that.
As for Angie's plans for the future, she wouldn't be pinned down as to whether or not she plans to go into the Christian music genre, as many assumed, or stick with pop. "I'm not gonna go into the Christian genre, I'm not gonna go into pop," she told reporters. "I wanna have music that has meaning and is real. Real-life stuff."
"I don't wanna have dance party music, but I don't wanna put people to sleep!" she laughed, noting that she wants her music to incorporate the "soulful piano sound with a lot of edge," saying that she "loves the rock." "I know the message that I wanna send out and I know the sound that I wanna do, and I just can't wait to show it to people," she added.
Copyright 2013 ABC News Radio