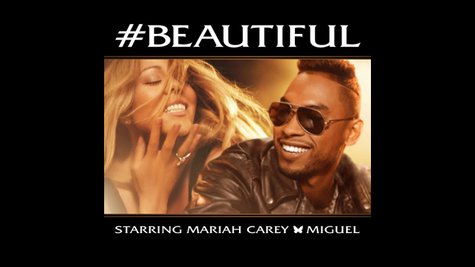 While it would appear that the only two people in Mariah Carey 's new video for "#Beautiful" are the diva and her duet partner Miguel , it turns out that Mariah's late dad is also present...at least in spirit.
In a behind-the-scenes video showing the making of the clip, Mariah explains that the red vintage car that Miguel drives in the video actually belonged to her dad, Alfred . It's a Porsche Speedster, and Mariah says, "It's very exciting for me because...we're featuring my father's car that he had his whole life and never was able to finish it up, and I did that in honor of him." She adds, "This is the first time anyone's ever gonna really see it. For me, it's a big deal."
Mariah's dad passed away in 2002. Her songs "Sunflowers for Alfred Roy" and "Bye Bye" were inspired by him.
In the footage, Mariah and Miguel are shown filming the scene in the video where she dances in a chandelier-filled barn while he sits in the car watching. "You better not leave me in this car for too long, 'cause I'm gonna take off!" jokes Miguel.
Mariah has also posted a second batch of footage documenting the making of the video, in which she walks around in a bathrobe pointing out all the work that goes on behind-the-scenes.
Copyright 2013 ABC News Radio