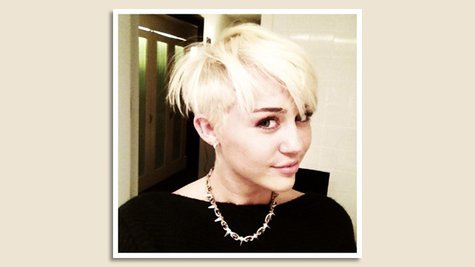 Fans of one singer attacking another singer online is just a reality in today's Twitter-crazy world, but Miley Cyrus wants it to stop. Not only that, but she's called out the fans of two singers in particular as being particular egregious when it comes to nasty tweets.
"Everyday someone with a Swift or Gomez in there [sic] name wishes terrible things upon me (death is popular)," Miley tweeted . She added , addressing her fans, "Please...don't ever think somehow you are supporting me by being hateful towards other artist. My fans make me proud by supporting my music & everything I do."
"Im sure these haters would make their idols much happier tweeting bout their music rather than wishing death upon their peers like psycho," Miley added, regarding fans of Selena Gomez and Taylor Swift. "We are all friends, why can't you be?"
To be fair, Miley acknowledged that her own fans, who she calls "Smilers," are also capable of this sort of bad behavior.
"Btw im not saying Smilers can't act cray cray too," she tweeted, but then added the hashags "#deaththreats" and "#TOOOOFAR."
Copyright 2013 ABC News Radio