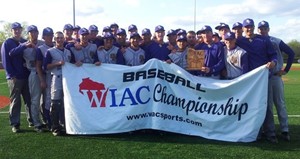 WHITEWATER, WI (UWSP) - The UW-Stevens Point baseball team has been crowned the
2013 Wisconsin Intercollegiate Athletic Conference Tournament champion
and earned an automatic bid into the NCAA Division III Tournament after defeating UW-La Crosse 6-5 Sunday afternoon. The Eagles (21-21) beat the Pointers 2-1 earlier in the day to force a winner-take-all contest.The Pointers (35-9) fended off a late push by the Eagles in the decisive game to win their second WIAC Tournament title in three years and sixth overall.
Box Score
UWSP claimed a 2-0 lead in the third inning when
Brandon Kranz
(Waukesha, WI/West) hit a one-out single and advanced to second on a wild pitch.
Clint Rose
(Watertown, WI/Watertown)followed by drawing a walk, and
Dan Douglas
(East Troy, WI/East Troy) singled while a throwing error by the Eagles' third baseman allowed Kranz to score and put Rose and Douglas in scoring position.
Ryan Schilter
(West Bend, WI/West) then hit an RBI single to put the Pointers ahead 2-0.UWSP took a commanding 6-0 lead in the fourth inning.
Jimmy Coady
(La Crosse, WI/Aquinas) and
Bobby Gregorich
(Plover, WI/SPASH) both reached on walks and
Casey Barnes
(Mequon, WI/Homestead) singled to score Coady.
Brandon Kranz
(Waukesha, WI/West) then stepped to the plate and belted a three-run home run to give UWSP a 6-0 lead.The Eagles put a run on the board when Brooks Braga led off the bottom of the fourth inning with a solo home run.Cole Cefalu hit a grand slam in the fifth inning to bring the Eagles to within 6-5, but the UWSP bullpen combined to allow only two hits over five shutout innings to seal the win and the title.
Brad Stroik
(Stevens Point, WI/SPASH) earned the win for the Pointers by pitching 2.2 innings out of the bullpen and
Tyler Flood
(Madison, WI/La Follette) earned the save after throwing 2.1 innings.The Eagles had runners on first and second with two outs in the bottom of the ninth inning, but Flood ended the game with a strikeout.The NCAA Division III Midwest Regional competition beginsWednesday, May 15. More information to come on Monday.