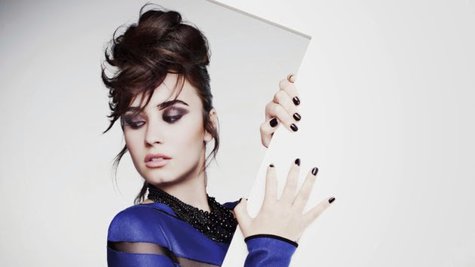 Demi Lovato just released her new self-titled album, and it's on track for a #2 debut on the Billboard chart. But don't look for the singer to hit the road this summer to support it: she's got to go under the knife.
Speaking with MTV , Demi said that she didn't have any plans to go on tour this year, and mentioned her commitment to The X Factor as one reason for that. But then she added, "Actually, this summer, I have to get my tonsils out." She then boasted, "I'm gonna do it without painkillers, though...'cause I'm a boss!"
It's hard to tell if she's joking. She went on, "I got my wisdom teeth without any, I had dry socket, I broke my leg, and I was like, 'No! I'm not taking anything!'" When the interviewer agreed that Demi was, indeed, boss, she laughed, "I'm just sayin'...come at me!"
During her chat with MTV, Demi also spoke about her long friendship with Selena Gomez . She admitted that there had been times in the past when the two ex-Disney stars had not been that close, but that's all over now.
"Now we're in a place where I think we realize that life is so short and when you have people in your life that love you so much, then you should always be around them," Demi said, adding, "She's gonna be a big sister and I wanna be around for that...she's talented, she's beautiful, and she will always be close to my heart."
Demi also revealed that she loves Selena's new single "Come and Get It," adding, "I went on vacation...and that's all I listened to, and when it comes on the radio, I turn it on really loud and tell everyone to shut up!"
Copyright 2013 ABC News Radio