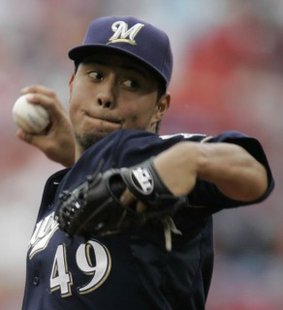 Final Score: Pittsburgh 3, Milwaukee 1
Pittsburgh, PA (TSN) - Neil Walker drove in a pair and Wandy Rodriguez spun seven innings of one-run ball in the Pittsburgh Pirates' 3-1 victory over the Milwaukee Brewers in the third test of a four-game set from PNC Park.
Walker had one of just four Pirates hits, but his two-run single off Yovani Gallardo (3-3) was all the offense Pittsburgh needed to capture its fifth win in six games and second straight over Milwaukee.
Rodriguez (4-2) struck out five and his only real blemish came when he served up a home run to Rickie Weeks. He allowed just six hits and Jason Grilli locked down his 16th save of the season with a perfect ninth.
Milwaukee has just two wins in the month of May, dropping 11 of 13 contests. Gallardo struck out five and was charged with two runs on three hits and four walks in six innings.