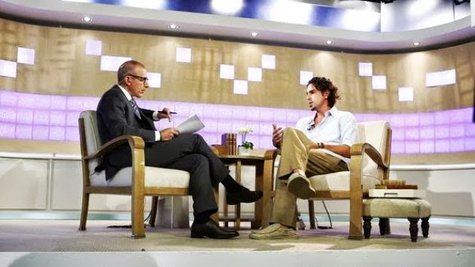 Wade Robson says Michael Jackson was a talented artist, but he alleges that the late performer was also "pedophile and a child sexual abuser." In an interview with the Today show's Matt Lauer , Wade stands by his lawsuit claiming that when he was a child, Michael sexually abused him.
Australian-born Wade was just a kid when he began performing alongside Michael, appearing in the King of Pop's music videos for "Black or White," "Jam" and "Heal the World." Though Wade has previously defended Michael against sexual abuse allegations, the now 30-year-old choreographer claims that he was 7 when Michael began molesting him. He adds that the alleged abuse continued until he was about 14.
Meanwhile, Tom Mesereau , a lawyer who represented Michael in a 2005 molestation case responded to Wade's Today show interview, telling TMZ , "This is a pathetic and an obvious grab for publicity and an attempt to put pressure on the [Michael Jackson] estate to pay him money."
But Wade said in the interview that his claims have nothing to do with money. For 22 years Wade says he remained silent, but he tells Today that he is speaking up. "I feel like this is the right thing to do because this is my truth," he says.
Contrary to earlier reports, Wade says, "This is not a case of repressed memory. I have never forgotten one moment of what Michael did to me, but I was psychologically and emotionally completely unable and unwilling to understand that it was sexual abuse."
Mesereau, however, points to the fact that Robson filed a creditor's claim against Michael's estate -- "Why call yourself a creditor if it's not about money?" he says, adding that Robson has volunteered statements supporting Michael, both in and out of court. Mesereau tells TMZ that he can't believe the truth of Robson's relationship with Michael didn't surface then.
Copyright 2013 ABC News Radio