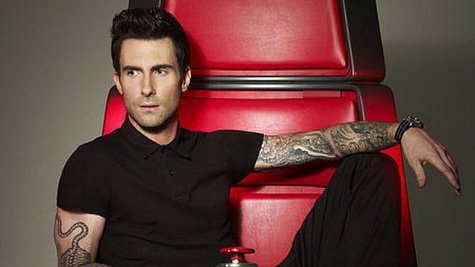 While he's already stated on Twitter that he was joking, Adam Levine has now issued an official statement clarifying an offhand remark he made Tuesday night on The Voice after two of his team members were voted off the show.
Adam was overheard muttering "I hate this country" after contestants Judith Hill and Sarah Simmons didn't receive enough of America's votes to continue with the competition. His comment outraged some fans, who attacked him as unpatriotic and insensitive. Adam responded by posting the definitions for the words "joke," "humorless," "lighthearted" and "misunderstand" on his Twitter feed, but now he's gone on record as explaining why he uttered the inflammatory comment.
In a statement provided to ABC News Radio, Adam says, "I obviously love my country very much and my comments last night were made purely out of frustration."
He adds, "Being a part of The Voice , I am passionately invested in my team and want to see my artists succeed. Last night's elimination of Judith and Sarah was confusing and downright emotional for me and my comments were made based on my personal dissatisfaction with the results."
"I am very connected to my artists and know they have long careers ahead, regardless of their outcome on the show," the statement concludes.
Following Tuesday's elimination, Adam, Shakira and Usher only have one contestant each left on their teams. Blake Shelton , on the other hand, has three contestants left.
Copyright 2013 ABC News Radio