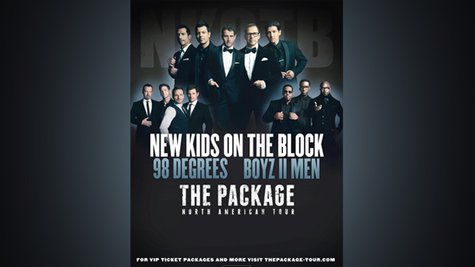 It's Boy Band Nirvana: the Package Tour -- featuring New Kids on the Block , Boyz II Men and 98 Degrees -- kicked off earlier this week at the Mohegan Sun Arena in Uncasville, Connecticut, and will play its third night at that venue on Friday. Last night, New Kids headed home briefly to perform at the all-star Boston Strong benefit show for the victims of the Boston Marathon Bombings.
Each night on this tour, these 12 men -- and they are men now, not boys, with close to 30 kids between them -- are bringing all their hits to the fans, as well as some new material. But who came up with the idea for this triple bill in the first place? New Kids member Danny Wood says they've been wanting to tour with Boyz II Men for a while.
"We wanted to do something with them. We were fans of theirs and have got so much respect for them and what they have done in the business," Danny tells ABC News Radio. "We knew eventually down the line we would do something." As for 98 Degrees, New Kids' manager also manages Nick Lachey , so when the group decided to reunite, Danny says, "Our manager talked about doing this tour, and it just worked out."
While in the past the New Kids went out on tour in what some would consider a "dream" double bill with the Backstreet Boys , Danny says the real draw for the Package Tour seems to be the fact that Boyz II Men are part of it.
"Who wouldn't be excited to see Boyz II Men? Boyz II Men's career is unbelievable," Danny tells ABC News Radio. "Anyone I've told, 'Yeah, we're touring with Boyz II Men,' that's it. They're like, 'Oh. I gotta be there.' They're that kind of group."
On the tour, both New Kids and 98 Degrees have new albums to promote, but they're not shortchanging fans on the hits at all. In fact, Danny says New Kids would never do that, and when making up their setlist, it's priority #1.
"The first thing you do is you put the hits on a piece of paper," Danny explains. "We never want to be that group that you come to the show and they do their whole new album. You know what I mean? You can't do that. You gotta give the fans the hit songs. So, those are all on the list to start off with and then you start sprinkling in the songs you think that would be good live."
As the tour continues through the summer, Boyz II Men's Wanya Morris says anyone who's coming to check out "The Dirty Dozen" -- as his bandmate Shawn Stockman has dubbed all three groups -- can count on one thing.
"Expect those songs that are going to make you remember," he tells ABC News Radio. "That's the main thing -- nostalgia -- and just to have a lot of fun."
Copyright 2013 ABC News Radio