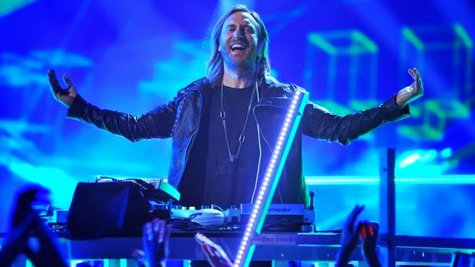 Taylor Swift may have been the big winner at the Billboard Music Awards earlier this month, but when it comes to post-award show sales boosts, David Guetta didn't make out too badly for himself.
The French deejay and producer won the first-ever Billboard Music Award for Top EDM artist at the May 21 show, and also performed his new single, "Play Hard," with Akon and Ne-Yo , on the telecast. Now, Billboard reports that sales of that song increased a whopping 313 percent after the show. By comparison, sales of Selena Gomez and Icona Pop 's singles, which were also performed on the show, only increased 4 percent.
"Play Hard," the final single from David's album Nothing but the Beat , will go to radio on June 17. The album itself, meanwhile, has just been certified gold for sales of 500,000 copies.
In a statement, the deejay says, "I'm so honored that my album has gone gold in the U.S. and so thankful to all the fans that have supported me and dance music in general. Together we have created the biggest movement and community in music around the world and it is amazing!"
And there's more good news for Guetta: "Right Now," his collaboration with Rihanna on her album Apologetic , is her next single. She revealed the single's artwork on Twitter, along with the hashtag "#SummerAnthem."
Copyight 2013 ABC News Radio