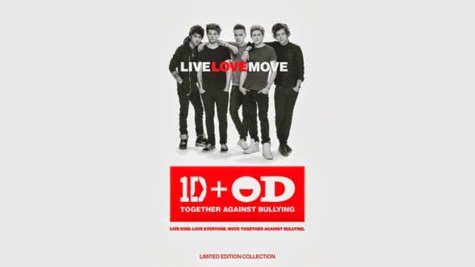 This fall, One Direction will help fight bullying...by selling notebooks and pencil cases.
1D is teaming with Office Depot for the retailer's Anti-Bullying campaign, which launches across the country this back-to-school season. Here's how it works: a collection of One Direction limited edition back-to-school products will be sold exclusively at Office Depot. A portion of the proceeds from each sale will go to fund an anti-bullying educational program to encourage students to treat one another more kindly.
1D will also tape an anti-bullying message which will be shown at their concerts and on TV, and you'll see references to the campaign, called 1D + OD Together Against Bullying , on social media and in digital advertising as well. The slogan for the campaign is "Live. Love. Move. Live Kind. Love Everyone. Move Together Against Bullying."
In a statement, an Office Depot exec says, "Office Depot is committed to making a difference in students' lives with meaningful anti-bullying education, and thanks to the powerful voices of Niall , Harry, Zayn, Louis , and Liam , we will make considerable progress."
Copyright 2013 ABC News Radio