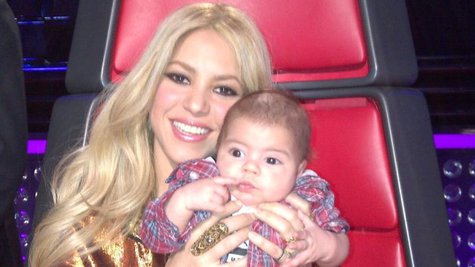 There are plenty of women who believe that breastfeeding their babies for well over a year is a good idea, but it appears that Shakira is taking things a little too far: she wants to nurse her son for 18 years.
Speaking to Us Weekly magazine, The Voice coach says that breastfeeding her four-month-old son Milan has been "one of the best experiences of my life," and admits she "can't stop."
"I think I'm going to breastfeed him until he goes to college! I'm hooked!" she laughs.
Shakira also explains that breastfeeding is helping her lose her baby weight faster, but she's not yet reached her post-baby goal weight. "I haven't weighed myself … I think I'm close but I can't sing victory yet!" she tells the magazine.
The singer says motherhood has been a surprising experience for her, because she can't believe she's so laid back about it.
"I thought I was going to be super-controlling because I am like that with my songs, my career and everything I do professionally -- I like to be in charge," she tells Us Weekly. " But with him, I'm so relaxed...everybody thought I was going to be one of those hysterical mothers."
Between taking care of Milan and appearing on The Voice , it's amazing that Shakira has time to work on her music, but she says she's in the middle of a brand-new album. "I've recorded some stuff, but I'm halfway there," she says, adding that she's not sure exactly how much material she has because some songs may not end up making the finished record.
"I'm just searching and writing about pretty much anything that comes to my mind and just letting myself be, without putting too much limits," she explains.
Copyright 2013 ABC News Radio