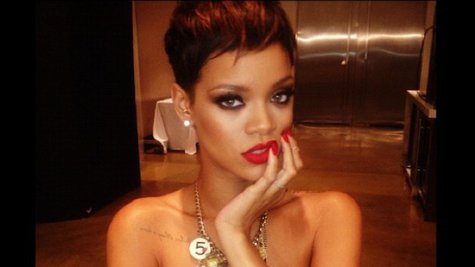 A New York City woman has filed a lawsuit against a cosmetics company, claiming she got herpes from a Rihanna -endorsed lipstick she sampled at the singer's May 7 concert in Brooklyn, the New York Daily News reports.
Starkeema Greenidge , 28, alleges she contracted the virus after stopping at a MAC Cosmetics popup shop at Rihanna's concert at the Barclay's Center. Greenidge claims a MAC representative applied a used tube of RiRi Woo lipstick to her lips.
According to the lawsuit, the rep told her to "press her lips together and spread the lipstick around." Two days later, Greenidge says she developed a cold sore on her lip that her doctor diagnosed as herpes.
Greenidge, a waitress, tells the newspaper, "I wasn't able to work for two weeks. It cost me a lot of money."
Her lawsuit claims that the cosmetics firm "should have known...it was unsanitary and exposing patrons to possible spread of disease."
According to the Daily News , Greenidge says she filed the lawsuit in an effort to force the company to be more sanitary in the future. She also thinks the company should train its employees to use disposable tubes or swabs to apply the lipstick.
Greenidge says the herpes has caused her "mental anguish and emotional distress." She is seeking unspecified damages.
Rihanna signed a deal with the company in February to launch her own MAC makeup line.
The newspaper says MAC officials could not be reached for comment.
Copyright 2013 ABC News Radio