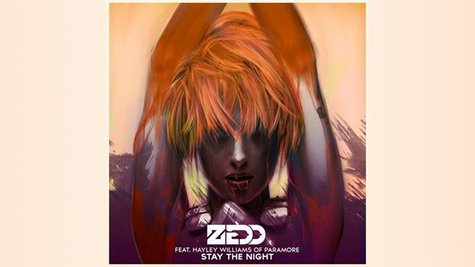 P aramore frontwoman Hayley Williams is in the unusual position of competing with herself on the charts right now: her band's "Still Into You" is a big hit, and rising fast behind it is " Stay the Night ," a new song from German deejay/producer Zedd that features her on vocals. And Zedd says that for his follow-up to the smash hit "Clarity," he really only had one woman in mind.
"I, personally, have been a big Paramore fan my whole life," he tells ABC News Radio. "I was in a band for a long time and that's kinda what I grew up listening to. So, for me it was like a personal dream to get her on a song of mine, and I just did not really think it would happen...but, you know, when it comes to putting a vocalist on my songs, I always try to reach for the stars."
In this case, Zedd's decision to "reach for the stars" -- in other words, to invite Hayley to sing on "Stay the Night" -- worked out, because Hayley said yes right away. "This whole song came about really quickly," he says. "From the first email, you know, the question if she wanted to be part of it, to her recording it and being on the song -- it was like a couple days."
While Hayley was Zedd's first choice for the song, she was only his first choice after he decided that he wanted a woman to sing the song, and not a man. That's because "Stay the Night" is basically a glorified booty call -- it's about a couple who is breaking up, or going through rough times, but one of them still wants to have sex with the other. That forwardness, says Zedd, didn't feel, to him, like it would come from a woman.
"It felt a little weird to me to imagine that a woman would say that," Zedd tells ABC News Radio. "But then I kinda re-thought and I thought it was actually kinda sexy if a woman would say, y'know, 'Are you gonna stay the night?' Something about it actually makes it much more interesting, in my opinion, than what you would expect, which would be a guy saying that."
"Stay the Night" can be found on the deluxe re-released version of Zedd's album Clarity.
Copyright 2013 ABC News Radio