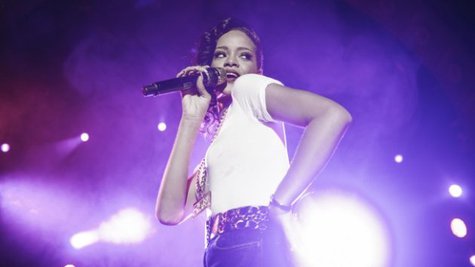 R ihanna's amazing ability to churn out hits has now led to quite a chart milestone for the Barbados-born singer: she's just scored her 25th top-10 hit on the Billboard Hot 100.
The song that did it for Rihanna is "The Monster," her collaboration with Eminem . According to Billboard, with 25 top 10s, Rihanna now ties Elvis Presley , the late King of Rock 'n Roll, who also notched that many. Only seven artists in music history have more: Elton John, Janet Jackson and Mariah Carey , who all have 27; Stevie Wonder and Michael Jackson , who have 28; the Beatles , who have 34; and Madonna, the champion with 38.
Speaking of Madonna, Rihanna has now surpassed the Queen of Pop for the record of the female artists who scored 25 top-10 hits the fastest. It took Madonna eight years and seven months to amass 25 top-10s; it took Rihanna eight years and four months.
"The Monster" is Rihanna's 45th single to chart on the Hot 100. There are only eight other women who've notched that many singles in music history: Mariah Carey, Nicki Minaj , Brenda Lee , Connie Francis , Dionne Warwick , Madonna, Taylor Swift , and the Queen of Soul, Aretha Franklin , still the champion with 73.
Given Rihanna's knack for putting out hits, though, she'll likely move up quickly on both these rankings the next time she releases an album.
Copyright 2013 ABC News Radio