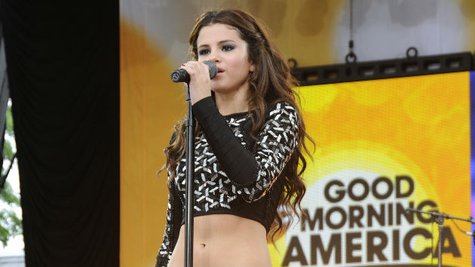 Lorde made headlines not long ago when she stated in an interview that as a feminist, she took issue with the lyrics of Selena Gomez's song "Come & Get It," calling them "pathetic," and not "normal or healthy." Now, Selena's taking issue with Lorde's claim that she's a feminist.
Speaking to Flaunt magazine, Selena says, "That's not feminism. [Lorde is] not supporting other women. That's my honest opinion, that's what I would say to her if I saw her." But that's not to say that Selena isn't a fan of Lorde's music. "I actually covered her song in all of my shows that I've done so far," Selena notes, adding "I'm not sure if I'm going to continue that."
Indeed, while Selena performed "Royals" during her November 2 show in Houston, Texas, she dropped it from the set of her next three shows, and inserted Katy Perry's anthem, "Roar."
Lorde's comments nonwithstanding, Selena tells E! that 2013 has been "the best year for me," noting, "I just turned 21, my record, the tour. I have a really good thing going." Asked if she has time to date, Selena laughed and said, "No!" Her Stars Dance tour runs through January 21, wrapping up in Japan.
Copryight 2013 ABC News Radio