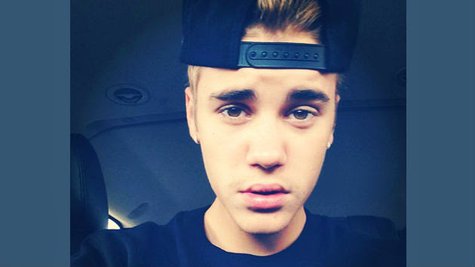 The title of Justin Bieber's latest song in his Music Monday series of releases is an apt description of his tour of South America: it's called " All Bad ."
The latest problem to beset the singer while touring in South America came Sunday night, when he was forced to cut short his show in Argentina due to illness. Before the show, Justin tweeted that he was suffering from food poisoning, but thanked fans for his win at the MTV EMAs. Then, he announced that despite his illness, the show would still go on, against doctor's orders. "Not feeling so good. Actually pretty sick. Pulling it together. Argentina we got a show to do. Love u," he tweeted .
Unfortunately, Justin's illness got the best of him and he had to announce to the audience that he couldn't go on. "I'm not feeling too good...I wanna say that I hate to do this because I hate disappointing any of my fans, but I love you with all my heart. You guys are incredible and I'm sorry once again," he said onstage.
To add insult to injury, Justin was reportedly asked to leave his hotel in Buenos Aires because his fans camped outside were making too much of a ruckus. Reps for the hotel told E! that Justin was no longer staying there, but wouldn't give a reason, though TMZ reported that it was because of the unruly fans. On Saturday, Justin tweeted , "to all my fans at the hotel. thank u. i love u. but please calm down and respect the police. we dont want anyone getting hurt."
It was the just the latest setback in a tour that saw the singer getting charged for spray-painting a wall in Brazil and being accused of visiting a brothel and patronizing prostitutes. And of course, there was also that embarrassing viral video that one of his party guests took of him sleeping.
The song "All Bad," however, isn't really about Justin's experiences on tour, though it could be seen as a commentary on rumors and innuendo about him. The lyrics on the surface are about a guy who's trying to convince a girl that he's right for her, even though other girls are trash-talking him. "They try to get at me/ Behind your back/Tryin' to tell me that I'm just like the others/But I ain't all bad/No, no, I ain't all bad," Justin sings. " Perfect, ain't saying that I am/Proven, it's proven I don't give a damn."
Copyright 2013 ABC News Radio