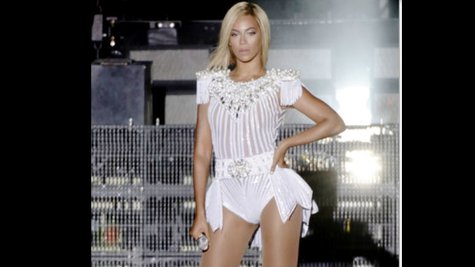 Over the weekend, Beyoncé showed yet again that she has a heart of gold. During the Perth, Australia stop of her Mrs. Carter World tour, the diva put the spotlight on Sophie Kotkis , a 13-year-old, legally blind fan who helped Bey sing her hit song "Irreplaceable."
Concert footage has surfaced on YouTube and shows Beyonce approaching the young girl, who also struggles with hearing difficulties and muscle problems.
"I have a very special young lady here," said Bey to a sold-out crowd. "Tell everybody your name, beautiful!"
"Sophie!" she said cheerfully, with a big smile on her face.
"Everybody say, 'Hello, Sophie!'" said Beyoncé, which led the audience to cheer and applaude the young girl. "Sophie, I think I need you to help me sing this song! You think you can sing, 'To the left?'"
Sophie nodded and with Beyonce's instructions, she sang the opening line: "To the left, to the left." A few moments later, Beyonce takes over and sings to Sophie but she stays at the edge of the stage, stroking Sophie's face and twirling hair.
The once-in-a-lifetime encounter was organized by Sophie's older sister, Ellie Kotkis , who told PerthNow.com the whole thing was "amazing."
"She had no idea that she was going to sing with her," Ellie said of the plan, which took seven months to set up. "Beyonce is her favorite... She's still on cloud nine."
Copyright 2013 ABC News Radio