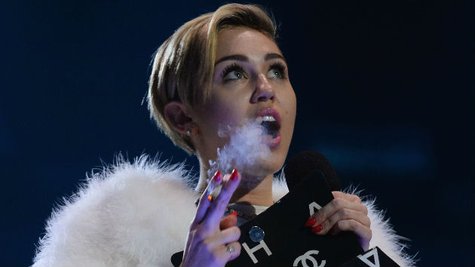 After causing controversy at the MTV EMAs Sunday night by appearing to smoke a joint on stage , Miley Cyrus has taken to Twitter to state categorically that, well, she doesn't care if you approve of her or not.
"Sometimes in life you just gotta decide to not give AF," she tweeted . As for whether or not she actually blazed one up on stage -- or off- -- well, perhaps Miley's description of the evening is a clue. After attending an after-party hosted by Katy Perry, Miley wrote , "Last night was a blurrrrrrrrrrrrrrr." She also thanked MTV for her two awards.
At the podium accepting her award Sunday night, Miley told the crowd , "I couldn't fit this award in my bag, but I did find this," and pulled out what looked like a joint, which she then proceeded to smoke, violating Amsterdam's rules against smoking anything indoors. The U.S. telecast of the MTV Europe Music Awards edited out Miley's onstage smoking.
Copyright 2013 ABC News Radio