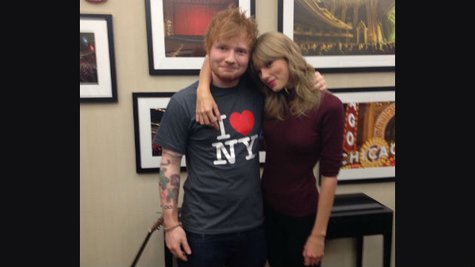 Taylor Swift 's given Ed Sheeran 's career a huge boost over the past year by having him as her opening act, so it's no surprise that she felt like a proud mom at the singer's recent sold-out shows at New York City's famed Madison Square Garden.
Speaking to London's Capital Radio about joining Ed on stage during his run at the Garden, Taylor said, "I was almost tearing up because he introduced me and we're standing there in front of a screen in front of a sold-out Madison Square Garden crowd and they all bought tickets with his name on it. I was so proud of him."
"The fact that it was able to happen so quick is what I was so proud of," Taylor added, noting that just a couple of months ago, Ed had opened for her at a stadium in the New York City area.
As she explained, "Then, they put the tickets on sale for Madison Square Garden. And clearly, everyone who saw us, a huge percentage of them wanted to see him. That really shows a lot -- that the fans were willing to go, 'You know what, I want to see that guy do his own show too.'"
"I think for him, success worldwide is inevitable," she added. "That's going to happen. He's amazing, he's talented, he's got an amazing record."
"I See Fire," the song Ed has recorded for the upcoming movie The Hobbit: The Desolation of Smaug , is out now. His second album is due in 2014.
Copyright 2013 ABC News Radio