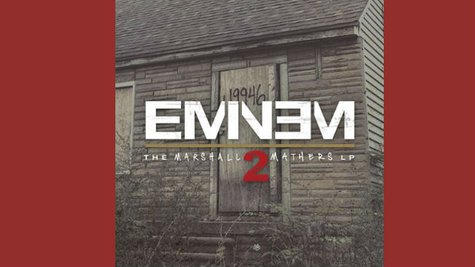 As predicted, Eminem's new album, The Marshall Mathers LP 2 , has scored an impressive debut atop the Billboard album chart, but it still wasn't enough to overtake Justin Timberlake in the "biggest sales week of the year" department.
Em's new disc enters the chart at #1 with first-week sales of 792,000 according to Nielsen SoundScan. It's the second-largest sales week of the year; Justin sold 968,000 copies of The 20/20 Experience back in March.
But the good news is that MMLP2 is Em's seventh consecutive #1 album. His only album that hasn't hit #1 was his first one, The Slim Shady LP , which peaked at #2 back in 1999. And MMLP2 sold more copies first week than did his previous disc, 2010's Recovery.
Elsewhere on the chart, Celine Dion's new album, Loved Me Back to Life , debuts at #2. It's the Canadian diva's highest charting album since 2003's One Heart . Unfortunately, the album's first week sales of 77,000 copies are Celine's lowest for an English-language album since 1993.
Another Canadian pop star, Avril Lavigne , enters the chart at #5 with her self-titled album. It's Avril's fifth straight top-10 disc, but the first-week sales are her lowest ever.
Kelly Clarkson' s Wrapped in Red, Katy Perry's PRISM and Lorde's Pure Heroine all remain in the top ten. Katy and Kelly fall slightly, while Lorde holds steady at #8.
Copyright 2013 ABC News Radio