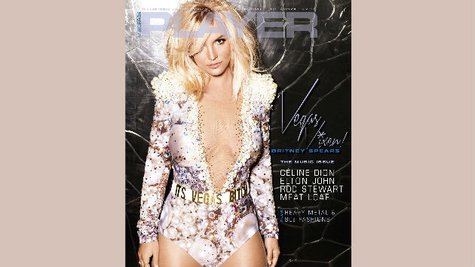 Britney Spears has been in the spotlight -- and on magazine covers -- since she was a teen, and now that she's a thirtysomething mom of two, she's still making headlines and being pursued by the paparazzi. But according to the singer, she finds the whole thing "kind of silly."
Speaking to Vegas Player magazine ahead of the launch of Britney: Piece of Me , her show at Planet Hollywood Las Vegas this December, Britney says of being a tabloid target, "This is the thing. I'm actually really shy. I don't like having my picture taken. I don't like the attention, but it's something that comes with success."
"I've accepted the paparazzi are going to be there; I just try to wear the same thing every day so I become uninteresting," she adds. We hate to break it to you, Britney, but it's not working.
As for actually checking out the tabs to see what they're saying about her, the singer says, "I've never done that. I know there is rude stuff out there, but I choose not to be a part of it. It's all kind of silly."
As Britney notes, "It's a mind-altering experience when you become a pop star at such a young age. Some people are made for it and some people aren't. If you keep good friends around you and stay grounded, you'll be OK."
Of course, Britney will be front and center during Piece of Me , and she says she can't wait, even though prepping for the rigors of the show has been hard work, b**ch.
"I have not been this sore in my entire life," she tells Vegas Player . "I'm really challenging myself with the choreography…whenever I do a show, I'm really keen on making it a show. I love to dance and perform. Because it's Vegas, I want to do something different. This is the perfect place to bring it to the next level."
And Britney says she welcomes the chance to perform for fans without dragging herself and her sons all over the world. "When you tour, it's so hard on the body. I look back and I don't know how I did it. Being in one place is cool. It's a more stable environment," she says. But of course, Vegas is a pretty fun place too, to say the least.
"There is so much going on. The energy here is incredible," she says. "You feel it walking through the casino. Everybody is here to have a good time."
Britney: Piece of Me , featuring more than 20 of the singer's greatest hits, launches December 27 at Planet Hollywood Resort.
Copyright 2013 ABC News Radio