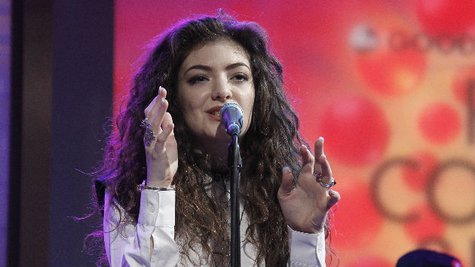 A while back, Lorde made what some considered to be disparaging remarks about Taylor Swift in an interview, and then apologized on her Tumblr page. Looks like there's no hard feelings between the two singers: they apparently had lunch together in New York City this week.
E! Online has confirmed an initial report on Twitter that the two women were spotted together at a Shake Shack in New York's Madison Square Park. An eyewitness, who snapped the two at the eatery and posted the photo on Twitter , told E! that Lorde and Taylor had shakes and fries and "giggled" while they ate; bodyguards roamed the area to ward off any unruly fans. When it came time to pay, the witness says Taylor looked at the bodyguards, who pointed at Lorde, who then dug money out of her pockets and settled the bill.
Well, Lorde can definitely afford it. Billboard reports that she's signed a publishing deal worth $2.5 million.
The deal is with SONGS Music Publishing, which confirmed it in a statement, saying, "When all is said and done, [Lorde] will go down as one of the greatest lyricists of all time." It's Billboard, however, that's put a price tag of $2.5 million on the deal, citing sources familiar with the negotiations.
The deal gives SONGS Music Publishing the rights to administer the songs on Lorde's debut, Pure Heroine , as well as those on her EP The Love Club, and future recordings. Billboard reports that the singer was the subject of a months-long bidding war, and that the deal was signed on November 7, Lorde's 17th birthday.
Copyright 2013 ABC News Radio