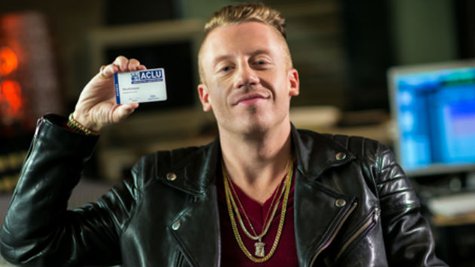 "Same Love," the smash hit by Macklemore & Ryan Lewis , is about marriage rights for gays. But now, Macklemore is spotlighting everyone's civil rights in a hilarious and profane recruitment video that urges fans to join the ACLU: the American Civil Liberties Union.
The ACLU defends First Amendment rights like freedom of speech, freedom of religion and freedom of the press, and protects individuals against unlawful discrimination. In the video, Macklemore ticks off a list of stuff that he might have to suffer if it wasn't for the organization protecting those rights.
"I'm a rapper. Got a lot of things to do during the day," says Macklemore. "So something like being beaten with a club, pepper-sprayed, and Tased for expressing my political views would really slow me down. And that's why I carry the ACLU card."
"It's the only card that lets my gay friends marry the hell out of each other!" he continues. "The card that says, 'Hey girl! It's your vagina and you should be able to do what you want with it.' The card that lets me call the president a d**k on the Internet if I wanted to. And I don't want to, but I could!"
"So if you like being free like me, then get the ACLU card today," he finishes.
"There is no other organization that I believe in more. The tireless work of the ACLU to preserve the freedoms of all people in our country inspires my music and my deepest connection to my human community," explains the rapper in a statement.
Macklemore has also partnered with the ACLU for a contest that gives fans the chance to meet him and Ryan Lewis and attend their concert in Macklemore's hometown of Seattle on December 12.
Copyright 2013 ABC News Radio