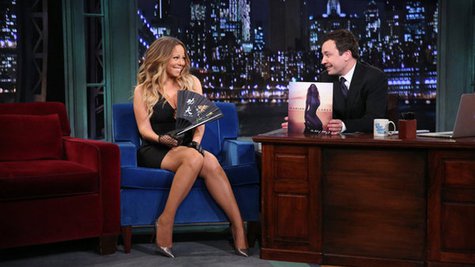 On Late Night with Jimmy Fallon Tuesday night, Jimmy Fallon welcomed Mariah Carey . Before she sat down to chat, Jimmy explained a prank he cooked up for some of the singer's most dedicated fans.
On Monday -- the same day her new single, "The Art of Letting Go," debuted on Facebook -- he invited "superfans" to listen to the song. As the fans listened, unbeknownst to them, it was revealed that it was Mariah herself who was singing, and she emerged from a hiding spot to shock them, singing as she did so.
She later gave a private concert for them, the pair revealed. "They're right up this close to me," Carey recalled, thanking Jimmy for setting up the scene that she said touched her. "I never get to do that. I don't even do that in front of my friends."
As for the release of her song via Facebook, Carey said, "It's just right for me," and for her global fan base, "so they can immediately form their own opinions" about the track.
Carey and Fallon also looked at a widely-circulated picture of her looking glamorous with her arm in a sling while she performed at a Superstorm Sandy event over the summer -- and how the shot hid how injured she really was in a fall back in July.
"This was for the victims of Hurricane Sandy with Major League Baseball and I had committed to this previously, so I was like, 'I gotta do it,'" Carey recalled, referring to her All-Star Game celebration performance at New York's Central Park. "But I was bruised -- you can see the bruise there, I was bruised everywhere."
Fallon said of the picture, "Well, you still look good!" to which Mariah said, "[T]hat's why people don't give me sympathy."
Copyright 2013 ABC News Radio