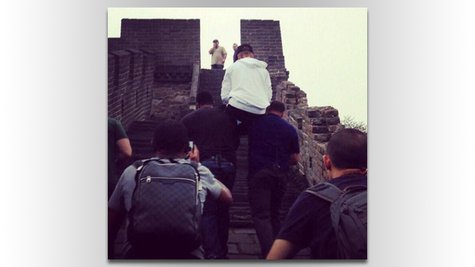 Justin Bieber apparently isn't taking to heart advice from other stars to straighten up and fly right. While visiting China on Monday, the recording artist was literally carried up the steps of the Great Wall of China on the shoulders of his bodyguards in a display of ego that might have made an emperor blush. Pictures of the moment were posted by his @BelieveTourUpdates Twitter feed.
Just a day before, Bieber skateboarded in Beijing -- along a part of the street protected by cones -- leaving his hired muscle tagging along behind him at a run.
Recently, stars from Mark Wahlberg to Sting to Miley Cyrus warned the young star to curb what some call his increasingly bratty behavior.
Copyright 2013 ABC News Radio