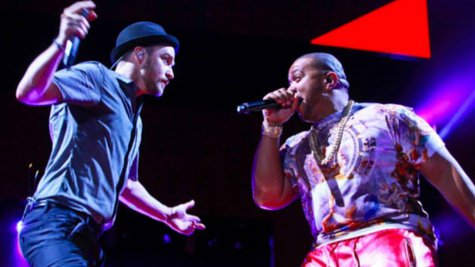 For most of Justin Timberlake 's super-successful solo career, he's been working with Timbaland , including on both discs of The 20/20 Experience . He thinks their partnership is so special that he compares it to that of one of Hollywood's most famous duos: director Martin Scorsese and actor Robert DeNiro.

Speaking to the British paper The Independent , Justin says, "Sometimes a producer and an artist get together and they make magic like Quincy Jones and Michael Jackson . As far as my own music career, you could liken my chemistry with Timbaland to Marty Scorsese and Robert De Niro."
Together, Scorsese and DeNiro made such classics as Mean Streets, Raging Bull , Goodfellas , The King of Comedy and more.
Justin then tried to backtrack a bit, adding, "I'm going to pay for that comment, I know it. Somebody's gonna throw that in my face. I don't want to sound conceited but I do believe that every time we get together we make something that I've never quite heard."
In the same interview, Justin also talks about Miley Cyrus , who stole his thunder at the MTV VMAs with her scandalous, twerk-tastic performance. But there's no hard feelings -- Justin says of the singer, "I think she's really smart and she's really talented." He also thinks that she's being used as a scapegoat, like so many young female stars have before.
"I'm not saying I agree with the presentation," says Justin. "But I also feel like every 10 to 15 years, we pick somebody that this is what we're going to do with them: we're going to make them the model of who we want our daughter to be or not be." While Justin doesn't mention her name, he could have been thinking of his ex-girlfriend Britney Spears .
Not only does Justin have The 20/20 Experience -- 2 of 2 in stores this week, but his latest movie, Runner Runner , arrives in theaters Friday. Also being released is The Short Game , a documentary produced by both JT and his wife Jessica Biel about seven-year-old golfers. "We are both big fans of these kids, and the message that comes from that movie is wonderful and will bring you so much joy," he tells The Independent.
Copyright 2013 ABC News Radio