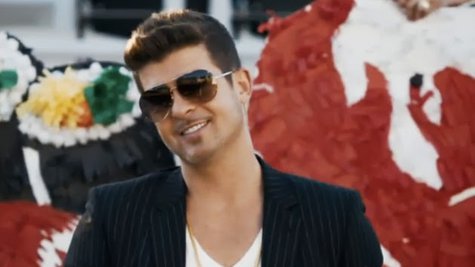 In the new issue of Vanity Fair , "Blurred Lines" singer Robin Thicke discusses the runaway success of that track, the exposure it got him thanks to Miley Cyrus ' rear end, and dismisses cheating rumors by speaking of the longtime love of his life, wife Paula Patton .

Regarding he and Miley's VMA performance, which arguably trumped both the conflict in Syria and the government shutdown in terms of global media coverage, Thicke thought it was a laugh. "I spent my whole career playing it safe, being a gentleman, never doing anything controversial," he tells the magazine. "I didn't see [the V.M.A. performance] because I was onstage singing my ass off." Thicke insisted he only knew ahead of time that, "Miley's going to take her clothes off and dance around and she might bend over...I just said, 'I don't care, let's entertain the people. Let's give them something they're not ready for, let's make them talk.'"
On his wife, Mission Impossible: Ghost Protocol star Paula Patton , he tells the magazine, "Seventy-five percent of my songs are about how much I love my wife and how much I need her. We've been married for eight years, and together since we were 16. We're very lucky to have the greatest friendship; we're John and Yoko -- whatever that is -- that's who she is to me."
Thicke also spoke of the controversy that "Blurred Lines" sounds to some like Marvin Gaye 's "Got to Give It Up," insisting to the publication, "There isn't one chord, one syncopation, one melody that is the same as Marvin Gaye's song. Inspiration and stealing are two completely different things. If somebody wants to make a song like 'Stairway to Heaven' and writes a song on acoustic guitar, Led Zeppelin does not own every song that's on acoustic guitar for the rest of time."
Despite a successful career as a singer and songwriter, Thicke admits "Blurred Lines" changed everything. "I've released 100 songs, and this one song has sold more, and the video was seen more, than everything else I've ever done combined. For the last 10 years, my audience at every concert was 90 percent black women. This year, pop radio and a white [audience] decided, We like this guy. That's the difference between being an R&B star and a pop star."
When the Vanity Fair writer asks Thicke, "So, where did this love of black music come from?" the singer replies, "I was seven years old the first time I saw Michael Jackson . That changed everything. I've been influenced heavily by great soul artists. I see myself as a soul singer. I sing from my soul -- I write from my soul." Thicke also says white artists, so-called "blue-eyed soul" singers, can't be counted out. "A lot of good white soul singers, like Hall & Oates and Michael McDonald , did soul music for a while, then they had their pop breakthrough," Robin said. "That's what's happening to me. But I think that John Lennon is blue-eyed soul; Bob Dylan is blue-eyed soul; Bruce Springsteen is blue-eyed soul."
For the record, Thicke's eyes are also blue.
Copyright 2013 ABC News Radio