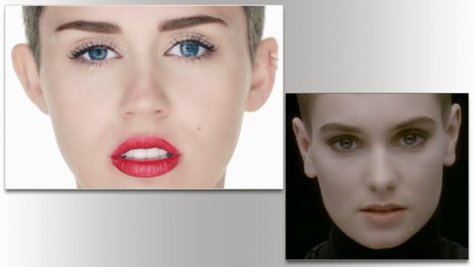 The war of words between Sinead O'Connor and Miley Cyrus rages on, as the '90s star has now posted a third letter to Miley, urging her to apologize "between G-string f***ing changes."
It all started when Sinead posted an open letter to Miley warning her about the dangers of over-sexualizing herself. When Miley responded by posting two-year-old tweets that Sinead wrote when she was going through serious mental problems, and compared her to Amanda Bynes , Sinead posted yet another letter threatening to sue, and taking Miley to task for making fun of people with mental health issues.
Miley then told Sinead via Twitter that the Irish singer should let her know if she wanted to "meet up and talk," as she was too busy rehearsing for Saturday Night Live to compose a letter. Sinead has now responded with yet another missive.
"I have no interest whatsoever in meeting you," writes Sinead. "You had plenty of time yesterday to abuse Amanda Bynes .. an entirely innocent party...and myself...who also did nothing to deserve your abuse...You can take five minutes today between g- string f***in' changes to publicly apologize and remove your abusive tweets."
She added, "When you publicly apologize to Amanda and myself and all mental health sufferers...that will end the matter as far as I am concerned...If you cannot apologize I will have no choice but to bring legal proceedings against you since it is extremely hard to be given work when people think one is suffering from mental illness."
"When you end up in the psych ward or rehab I'll be happy to visit you.. and would not lower myself to mock you," she continued. "Be a proper woman and make the public apologies I have listed above. Your hosting SNL is a bulls**t reason for not taking five minutes to do the right thing and your behavior yesterday will rebound upon you very badly."
Sinead then drew a comparison that might just grab Miley's attention.
"How do you feel when your friend Britney Spears is mocked and humiliated for having had mental health problems?" asked Sinead. "I know I personally want to bash those who treat her that way. If she is your friend and more importantly if you are a true friend to her...you ought apologize for joining those who mock and humiliate women who have been too nice frankly, to manage the music business without sensibly losing their minds."
Stay tuned.
Copyright 2013 ABC News Radio