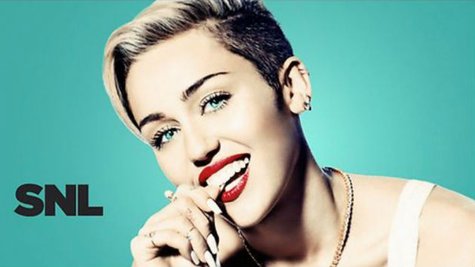 Predictably, Miley Cyrus' stint as host and musical guest on Saturday Night Live this past weekend poked fun at her scandalous MTV Video Music Awards performance, but she didn't manage cause any new controversy during the show, which started about a half-hour late due to a late-ending football game.
The show began with a look at a post-apocalyptic America in the year 2045. When one character asked another what led to the downfall of the country, another recalled that "the day America ended" was the MTV VMAs, thanks to Miley's performance. Flashback to this year, and Miley warming up backstage, ready to go on at the VMAs in her teddy bear costume. Then, SNL castmember Vanessa Bayer, in character as Miley from SNL's The Miley Cyrus Show sketch, comes through the door. A shocked Miley can't believe her eyes, saying, "I must have smoked too much" -- and then she turns to the camera and smiles --- "cigarettes."
Vanessa-as-Miley tells Miley that she's the "old you," and that she's come to warn her that her performance will be too controversial, but the real Miley doesn't listen. When Vanessa-as-Miley asks the real Miley why she keeps sticking her tongue out, Miley explains, "I'm having tiny strokes, yo!" Then Vanessa gives Miley an All-American Girl doll name "Molly" --- "just like the one you sing about in all your songs." Cast members also appeared briefly as Robin Thicke and Will Smith . Then flash back to to 2045, as the character from the beginning of the sketch reveals that while America may have gone down in flames, Canada came out on top because "Prime Minister Bieber was a fair and generous ruler."
Then it was time for Miley's monologue, where she promised there'd be "no twerking tonight," because "now that white people are doing it, it's kinda lame." Here's how the rest of the show went for Miley:
--A video parody of Miley's "We Can't Stop" clip was retitled "We Did Stop (The Government)," and cast Miley as Michelle Bachman and cast member Taran Killam as John Boehner. They were shown cavorting outrageously at an out-of-control party, just like in the video, while singing about how they conspired to shut down the government.
--Miley sang a stripped-down acoustic version of "We Can't Stop" and a full-band version of "Wrecking Ball."
--She appeared as a guest on the Girlfriends Talk Show sketch as "Lil Teenie," a friend of Cecily Strong's character from the school hip-hop club. She spoke in hip-hop slang and twerked, albeit very briefly.
--She played Scarlett Johansson in a sketch about casting the movie 50 Shades of Grey , and Hillary Clinton in a sketch about a planned MTV show focusing on the friendship between Clinton and Barack Obama .
--She played one of the co-hosts on a Miami morning TV show, as well as a high school student who comes on to a female poetry teacher.
--She played herself in a brief sketch in which she was supposedly dying to have sex with new SNL cast member Kyle Mooney .
Surprisingly, there was no mention made of Miley's feud with Sinead O'Connor, who was banned from SNL in 1992 after ripping up a picture of the Pope.
Coypright 2013 ABC News Radio