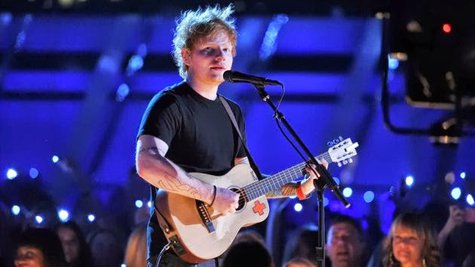 Anyone can hire a band to perform at their wedding, but how many couples can say that they had Ed Sheeran serenading them as they tied the knot? Well, Ed's producer Jake Gosling can now make that claim.
The British paper The Daily Mirror reports that Ed turned wedding singer over the weekend to perform during Gosling's first dance with his new bride, after they exchanged vows during an intimate ceremony on the Spanish island of Ibiza. Ed retweeted a photo taken by a wedding guest that shows him sitting on a stool with an acoustic guitar singing as the couple dances. He also tweeted , "What an amazing weekend. Happy people at weddings make me happy."
Gosling worked with Ed on his best-selling debut album + , including on the Grammy-nominated single "The A Team." He also worked on One Direction 's first two albums, most notably on the single "Little Things" which was co-written by Ed.
Ed's next public performance will be at a slightly bigger venue: New York City's Madison Square Garden, where he'll do three concerts starting October 29.
Copyright 2013 ABC News Radio