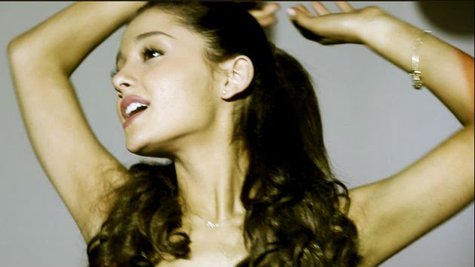 Before Ariana Grande topped the album chart with her debut Yours Truly, she raced up the singles charts with "The Way," featuring Mac Miller . The video for that tune just became Ariana's first-ever VEVO certified clip, passing 100 million views. Ariana says she was honored to record that song, that top 10 hit, since it was inspired by the love of what she calls "the sweetest couple on the planet:" Jordin Sparks and Jason Derulo .
Jordin co-wrote "The Way," but she didn't end up recording it. Instead, Ariana got the chance to cut it, and she just loved the fact that Jordin wrote it about Jason and their relationship. "I think it's the cutest thing in the whole wild world. I think it's amazing," Ariana tells ABC News Radio, saying of Jordin, "She is the sweetest thing in the world and I love that girl to pieces. And Jason is the sweetest thing ever and they are the sweetest couple on the planet."
But even though the song was specifically written about two people she knew, Ariana says she was able to apply the song to her own life, and her own relationship at the time. The fact that the song is both personal and universal is what made "The Way" so successful.
"The fact that I was allowed to sing that, and she, in a way allowed me to do that...was very special to me," says Ariana. "I'm so grateful. And it was, her and Jason's story but it was something that I also got to dedicate to somebody, and I got to sing it about somebody, too. So it's a feel-good song, and I feel like that's the cool thing about it is that everybody can feel good and sing it about somebody."
Ariana's current single is "Right There," featuring Big Sean .
Copyright 2013 ABC News Radio