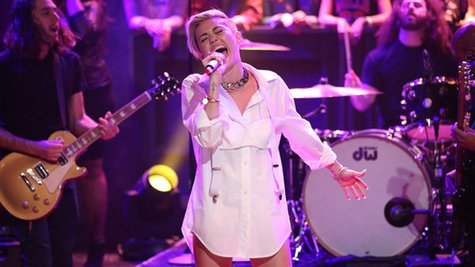 Fresh from positive reviews of her appearance on Saturday Night Live -- and the blockbuster global release of her new album Bangerz -- Miley Cyrus appeared on NBC's Late Night with Jimmy Fallon Tuesday night. She was more than game: Miley not only sat for an extended interview, but took part in a bizarre sketch, and performed her hit "Wrecking Ball" -- and that was after recording an a cappella version of "We Can't Stop" with Fallon's house band, The Roots , earlier in the day.
Miley, wearing just an oversized shirt and suspenders with a bra stitched between them -- on the outside of her top -- said her record's No. 1 debut in 70 countries meant Tuesday was a very good day for her -- but feared it would be ruined when she got pneumonia from Fallon's cold studio. "You have to wear clothes!" Fallon protested, gesturing to her half-outfit. "That's how you get pneumonia!"
During a commercial break, Miley's mom provided a blanket for the singer to use to warm her bare legs.
Miley said her appearance on Saturday Night Live this past weekend was gratifying, especially after the headlines she made for her VMA performance. "It was fun for me, just 'cause everyone always has something to say and I think at the end, people forget that...I grew up performing...And so I feel that was a good time to kind of show people...that I don't just twerk and lick stuff: I can sing and I can act a little bit, too."
Fallon said, "Though you're great at those things as well, not to knock that!"
Miley also explained why she was eager to have Britney Spears on the new album. "I really wanted to put someone on that I felt was just -- what represented pop music to me -- and that was Britney. Because so many of my fans have grown up watching me...I was so many peoples' first records that they went out and bought. And Britney was my first album."
Before she performed, Miley took part in a sketch in which she and Fallon used mannequin arms instead of their own. The scene, allegedly part of a soap they once starred in, had Miley playing a nail shop owner. The pair even plugged "We Can't Stop" as part of their scene.
Copyright 2013 ABC News Radio