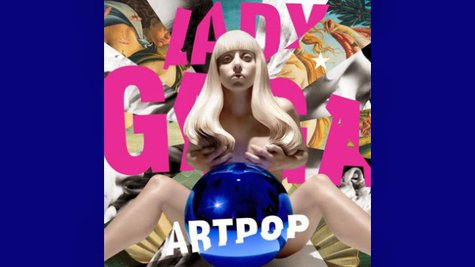 Lady Gaga announced the track list for ARTPOP early Thursday, in a most creative way.
She had commissioned a mural, which listed the songs on her new album, by a group of Los Angeles-based fans she referred to as the "LA Rivington Rebels." Before the big reveal, she tweeted the fans had been "sleeping outside of the Record Plant (my studio) for a month! Sleeping bags, booze & all."
Just after midnight, the song titles were revealed one at a time via Twitter photos of the mural posted by the "Rebels" and retweeted by Gaga. Eventually, a pic of the entire mural was published.
You already knew about the first two singles: "Applause" and "Aura," the latter of which now has a lyric video. The clip features footage from her film Machete Kills , which opens Friday.
Several hours before the announcement, Gaga took to social media to tip her fans off on the 13th track: "Dope," which she described as "the evolution of a fan song that became a deep confession in the recording studio. Produced by Rick Rubin and Me."
ARTPOP will be released November 11.
Here is the track list for ARTPOP :

"Aura"
"Venus"
"G.U.Y."
"Sexxx Dreams"
"Jewels N' Drugs" featuring T.I., Too $hort, and Twista
"MANiCURE"
"Do What U Want" featuring R. Kelly
"ARTPOP"
"Swine"
"Donatella"
"Fashion!"
"Mary Jane Holland"
"Dope"
"Gypsy"
"Applause"
Copyright 2013 ABC News Radio