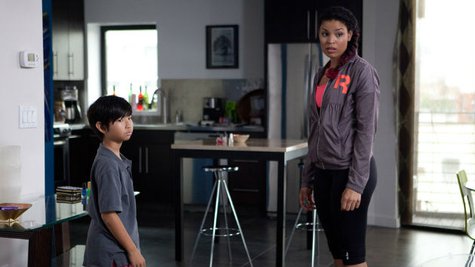 While Jordin Sparks has been working on new music, her acting career is exploding. She just wrapped up a part in a new Nicolas Cage film, she'll appear in an upcoming episode of CSI: Crime Scene Investigation, and on Friday, she hits theaters in the new movie The Inevitable Defeat of Mister & Pete. The movie also stars fellow American Idol alum Jennifer Hudson , and Alicia Keys serves as executive producer and musical director.
Though the movie is just out this week, Jordin actually shot Mister & Pete quite some time ago. "It was the second film that I've ever done and it was while I was doing [press for] Sparkle , so it was really crazy, and it has been awhile," Jordin tells ABC News Radio. "I cannot believe that people are gonna see it! I actually saw it for the first time about two nights ago and I'm still reeling from it. Ohmigosh, it just turned out so absolutely incredible that I was floored."
Jordin says this movie brings her career full circle in several ways, because of the presence of Jennifer and Alicia. "When I was 14, I got to go to American Idol and watch the show in the studio, and Jennifer was one of the people I took a picture with after the show," she recalls. "I still have that picture. It's just really strange how everything happened: then I did Idol, and now, a couple years later, we're doing a movie together!"
"Same with Alicia Keys, actually," Jordin adds. "Alicia was the first tour I did, after American Idol, and she's definitely been like a mentor to me."
The movie, set in New York City, stars Jennifer as a drug addict and drug dealer with a young son named Mister. After she gets arrested and taken to jail, Mister and his friend Pete -- whose mother is also an addict -- dodge the cops so they won't be sent to child protection services. Then, they end up having to fend for themselves all summer, with no money or resources. Jordin plays Alice, a girl from the neighborhood who tries to help the two boys out.
Jordin says she did the movie because the script really touched her. "I was reading it on the plane, actually, and I started bawling," she tells ABC News Radio. "It really pulls out your heartstrings. It's very heavy...you know, kids just having to survive on their own and no one helping them. You never want to think of that. You always wanna think of kids getting the help that they need and always having somebody to rely on, and that's not the case in this movie."
Jennifer, who has an Oscar on her shelf at home, says she's thrilled that Jordin's in the film, though they didn't have any scenes together. "I didn't learn that she was in the film until I started filming, but that's great! I'm a fan of Jordin," she tells ABC News Radio. "And it's good to see her get into acting. She did an amazing job as well. So I was proud to see her be a part of the project too."
The Inevitable Defeat of Mister & Pete opens Friday.
Copyright 2013 ABC News Radio