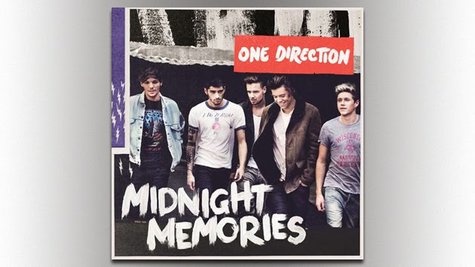 Attention One Direction fans: the band has released the track list for their upcoming album, Midnight Memories .
The standard version of the disc will include 14 tracks, including "Best Song Ever" and the new single "Story of My Life," which debuts in two weeks.
1D will also put out a deluxe edition of Midnight Memories , which comes with four bonus tracks and a 28-page booklet containing photos of the boys.
The artwork for the album is a straightforward photo of the five lads in street clothes.
As previously announced, Midnight Memories will be released November 25. Two days before that, the group will hold a "1D Day" worldwide event -- a live broadcast of sketches and more.
You can pre-order Midnight Memories now on iTunes . Here's the track list:

"Best Song Ever"
"Story of My Life"
"Diana"
"Midnight Memories"
"You & I"
"Don't Forget Where You Belong"
"Strong"
"Happily"
"Right Now"
"Little Black Dress"
"Through the Dark"
"Something Great"
"Little White Lies"
"Better Than Words"
Deluxe Edition Bonus Tracks
"Why Don't We Go There"
"Does He Know?"
"Alive"
"Half a Heart"
Copyright 2013 ABC News Radio