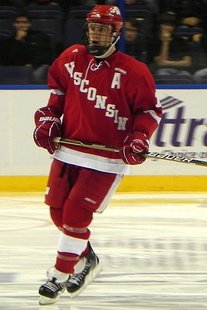 MADISON, WI (LEARFIELD-WSAU) The Wisconsin men's hockey team opened the season with a win over Northern Michigan last night, 5-2. The third-ranked Badgers were 1-for-7 on power plays and 7-for-9 in penalty kills.
Forwards Michael Mersch, Grant Besse and Jedd Soleway each scored a goal and an assist. Goaltender Landon Peterson knocked away 18 pucks on 20 shots in his first win of the season.
It's the first time the Badgers won a season-opening game since the 2007-2008 season. They play again tonight. You can hear the game on WSAU following Badger football.