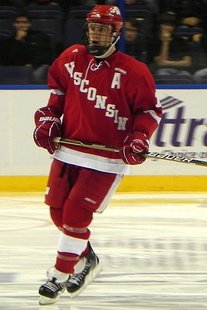 MADISON (WSAU) The Wisconsin Badgers hockey team opened the 2013-14 season with a two-game sweep over Northern Michigan. It's the first time since 2004 that the Badgers opened with a sweep.
Saturday's victory came on a late goal from Grant Besse with 3-minutes remaining to break a 1-1 tie. The Badgers couldn't hold an early 1-0 lead with a first period goal from Nic Kerdiles less the 2-minutes into the game.
The Badgers topped Northern Michigan, 2-1 on Saturday night after opening the season with a convincing 5-2 win on Friday night.
The Badgers travel to Boston for a Friday night game against Boston College, followed by a Saturday night game against Boston University.