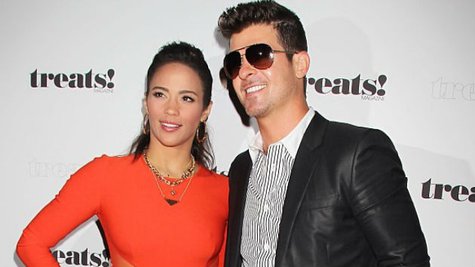 Robin Thicke made headlines over the summer with his "Blurred Lines" video, which featured topless models and a balloon that reads: "Robin Thicke has a big d**k." Now, his wife Paula Patton is giving new insight on her husband's package, which he brags about in his latest single, "Give It 2 U."
"I think that the statement is fairly accurate," she says in the November issue of Glamour magazine. The actress adds, "Robin's like, 'Listen, if I'm, you know, in the Miami Heat's locker room, I don't know where I stand, but.…'"
She said of the balloon message, "It's cool, it's funny, it's awesome!" Paula also addressed that Robin has changed her from being a good girl.
"He ruined me! Gosh, I hope I'm still a good girl and a bad girl at the same time," she says. "And I think that every girl should know the bad girl inside her -- and that doesn't make her bad, you know?"
It seems the spark has not faded from the pair's romance, even though they've been together ever since they were 16-year-old high school sweethearts. When asked if she still remembers their first kiss, Patton shares, "He sang Jodeci 's 'Forever My Lady' to me. He did a full-out R&B onstage performance in his dad's living room. Then he kissed me. It worked!"
Copyright 2013 ABC News Radio