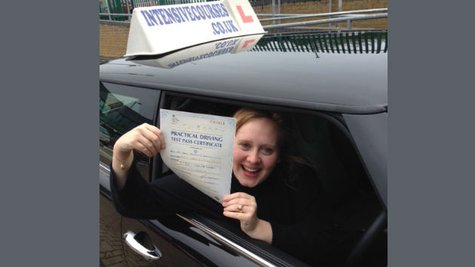 Last week, Adele tweeted gleefully that she'd passed her driver's test. Now, the guy who made it possible is spilling the details about what it was like to teach one of the world's biggest pop stars to drive -- and surprisingly, he claims he didn't have a clue who she was.
Noel Gaughan , a kind of driving-instructor-to-the-stars in the U.K., tells the Daily Mail , " I didn't know who Adele was so she started singing in her lessons. The problem was I didn't know any of her songs. She would sing some beautiful songs and say, 'You must know this one,' but I don't really know many celebrities."
Gaughan, who says that Adele only needed six days of lessons before taking and passing her test, then inadvertently revealed a personal detail about the award-winning star to the paper.

You may recall that Adele has never officially announced or confirmed the name of her son, who will celebrate his first birthday this weekend. However, Gaughan is quoted as saying, " Her little boy Angelo is doing absolutely brilliant. She is very much a proper mum who lives for her son. Driving will give her a bit of freedom and she is looking forward to be able to go off with just her and Angelo. She worked very hard with me and learned very quickly."
Despite that gaffe, Adele has provided a testimonial to Gaughan for the website of his company , Intensive Courses. "Noel is Dumbledore of roads," she says. "Could not have done it without him and his jokes changed my life."
Other stars who Gaughan has taught to drive include One Direction 's Niall Horan , Edward Dwain of Mumford & Sons and actor James McAvoy of X Men: First Class fame. Gaughan claims not to have heard of or recognized any of these people.
Copyright 2013 ABC News Radio